This is an old Reposting of a blog originally on Myspace years ago ....Before Disney bought Star Wars and decided to make new movies and a Star Wars Themed Land.......
Here it is again---my idea for a Star Wars Themed Vegas Hotel/Casino and theme park. Unfortunately grand ideas fall flat when you have no artistic ability to draw the ideas in your head Here is the basic idea. It incorporates a Disneyland type theme Park model (Go figure) --includes some pre-existing Star Wars Disney rides --and then just adds on the concept. Of course lacking Concept art (like I said my drawing ability --as demonstrated in my Skewer Baby artwork is severely lacking) so instead I will just include a few Star Wars pics from the web to hopefully give a little visuals to the ideas.
Brad's old Star Wars Theme Park Idea
You could have a Hotel in the middle of the desert shaped like a giant landed Star Destroyer.
The Hotel would be a Hotel and casino--that would be Star Wars themed and inspired. At the time of my idea they didn't have Star Wars slots yet but now they do. (so bring on the slots)
You could have Sabaac the gambling game in the Star Wars Books.
Behind the Hotel would be a Theme Park. Laid out like Disneyland with Mos Eisley as Main Street and shops and the Mos Eisley Cantina (of course the animatronic Bith Band like that seen in this picture I took at FAP Swartz Toy Store in Caesar's Palace years ago. would be perfect.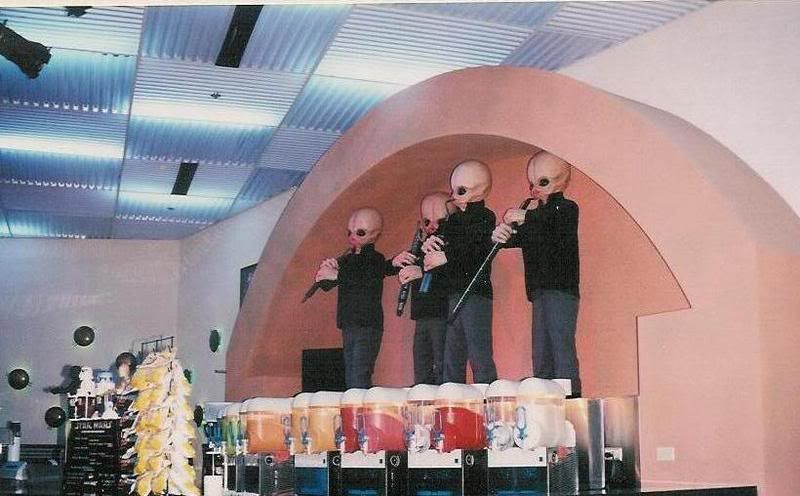 MOS Eisley
Landspeeder rides down Mos Eisley instead of the fire trucks on Main Street.
Off one side street of Mos Eisley would be the
Jabba's Palace Lunch and dinner show.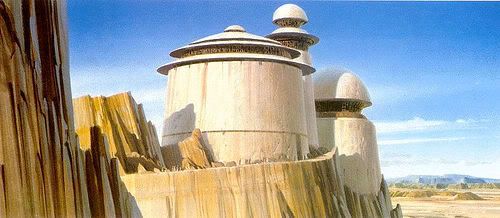 For lunch and dinner --you would eat in Jabba's palace with Giant Animatronic Jabba overlooking the lunch and dinner show that could include all sorts of Star Wars themed entertainment al la dinner shows like Wild Bill's or Medieval Times. With Twilek servers and cool characters walking around. One part of the show would be Bossh walking in with Chewie like scene from movie and Hologram Luke scene from movie as well.
Since it is Vegas they could even have a late night Adult only late night show as well with Topless slave dancers --and Slave Leia.
(since I first wrote this years ago Star Wars Burlesque is something I've been to in Los Angeles.)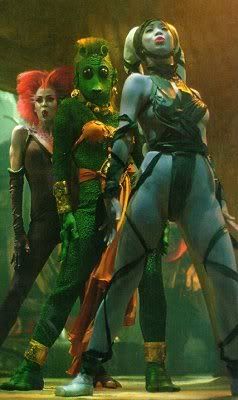 Also there is a fun interactive underground tunnels of Jabba's Palace walk through exhibit
Near Jabba's Palace would be a Test Track Style Podrace ride with indoor and outdoor sections.
The Central Hub would instead of a castle be a giant
Star Tours facility
that would transport people to the other Planets (or lands if you will) --There would be of course walk by entrances for those not wishing to take the Star Tours Type rides to different destinations.
One Star Tours ride would drop you off at the Death Star. A Large Building connected to the Star Tours Facility . This 3 story building would house Death Star Laser Tag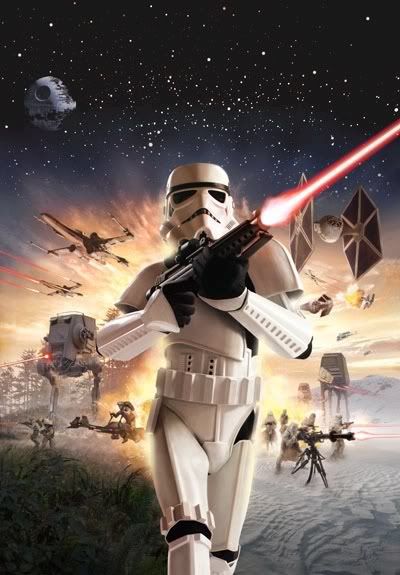 This section would also house X-wing and Tie Fight Simulator training


And an Imperial themed store and Throne Room Photo op in the Emperor's Chair.
Of course one land would be Endor with an
Ewok
Village
----and as others have said and probably thousands have already thought of and
Speeder Bike Rollercoaster Ride
through the
forest of Endor
---Think the side by side track coasters with trees as obstacles.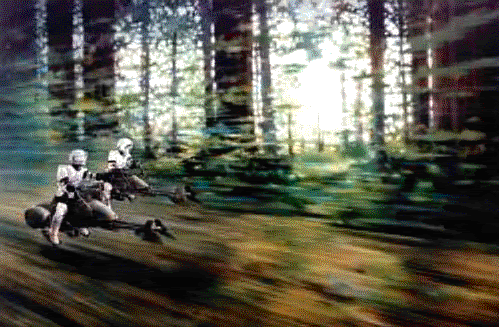 The Endor Village
would of course have Ewok actors and Photo Ops. A C3PO Fireplace Storytime for children around a campfire a la Redwood Creek trail at DCA.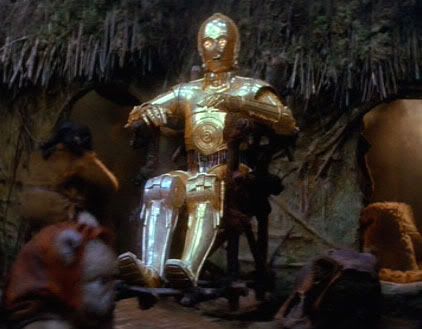 It would also have rope bridges and rope ladders for the kids to play in. Also on Endor would be a full Scale Walk Through Mock up of the Millennium Falcon----think Toontown house walk throughs--but the Millennium Falcon with Hologames on chess board.
Wicket's Restaurant--think Rainforest --made to look like you are dining in the trees.
and of course based on Wicket's Hang Glider in the Ewok Movies'
Wicket's Soaring over Endor--which would fly past Walkers and Imperial forest base.
HOTH
Another section would be Hoth where you would walk through Ecco Base ice Station on your way on your way to a dark ride --that would take you on a small transport through scenes from Hoth. The Hoth Ice Tour Company Indy style ride takes you past Rebels Fighting in bunkers----Through the legs of a giant At-At --and finally through a Wampa ice cave where you are nearly attacked by a Wampa.
There would be an Echo Base Store and restaurant . Photo Ops with a Tantaun.
One section would be the Jedi Temple ----Would have Jedi Training for the Younglings ----Jedi dining -think The Magic castle in LA with a Jedi host does magic tricks during dining experience. If technology improved you could have simulated Lightsaber dueling game where you where headsets and battle WI style with lightsaber against alien opponents.
And of course the Jedi Council Yoda Photo Op
Check out Part 2 of our Disney Discussion on our Podcast
Where we briefly discuss the Star Wars Trailer
My Disney Facebook Page