Celebrate, Small World additions and new Boardwalk games in DCA
Before I document my first ever experience with the Ren Faire (a tall order since I have over a hundred pics) I decided I'd do a quick Disneyland Resort blog –showing some of the new things at the resort that I checked out on a few recent trips…..
First off The new Disneyland Parade Celebrate…….A Great parade ………NOT SO MUCH
Celebrate follows the Street Performance style parade …..Not my favorite type of parade……In fact the last good parade in this style was probably the Lion King Parade….I personally think traditional moving parades work much better…..
So Celebrate was not great but at least it wasn't as bad as the worst case of a street performance parade . That spot in the hall of lame is still reserved for LIGHT TRAGIC.
To see pics from LIGHT TRAGIC go here
http://www.yesterland.com/lightmagic.html
Yeah I get what they were trying for with Light Magic…..The Lord of the Dance was popular back then….so they figured they would do something with that……But cheesy faires or elves or whatever they were on bad fiber optics floats…NOT SO MUCH Especially as a replacement for the Electrical Parade…..
Back to Celebrate…….It is basically just low budget version of the Mardi Gras parade from 1990 35
th
anniversary parade…….Floats of the famous Disney characters????? Dancing and a conga line???? I've seen that before…but done better…
Go here to see pics from that parade
Party Gras
http://www.yesterland.com/partygras.html
Now I present the low budget version Celebrate!
I thing Eric needs a drink for this one (as he waits in long line for a beer)
The Mardi Gras Parade had 40 foot character balloons --this time around 7 foot balloons (Impressive—NOT SO MUCH)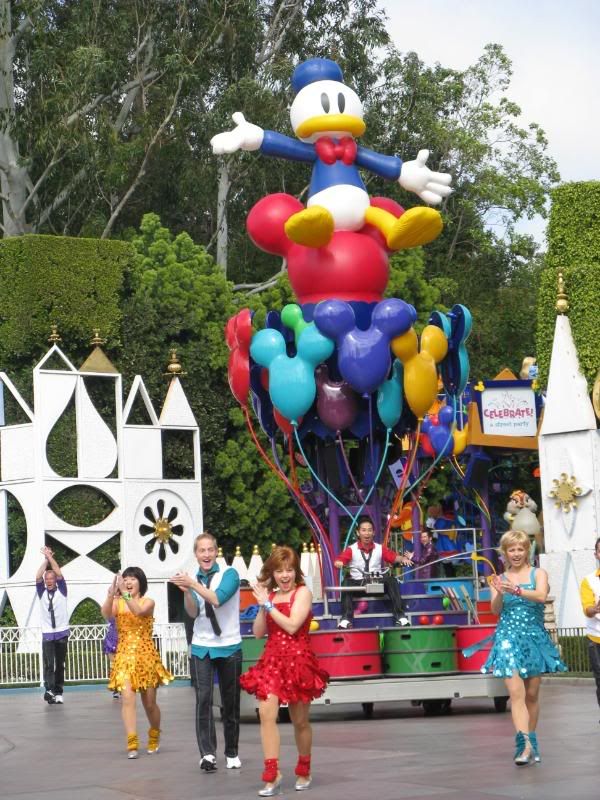 The Floats themselves are very plain and dull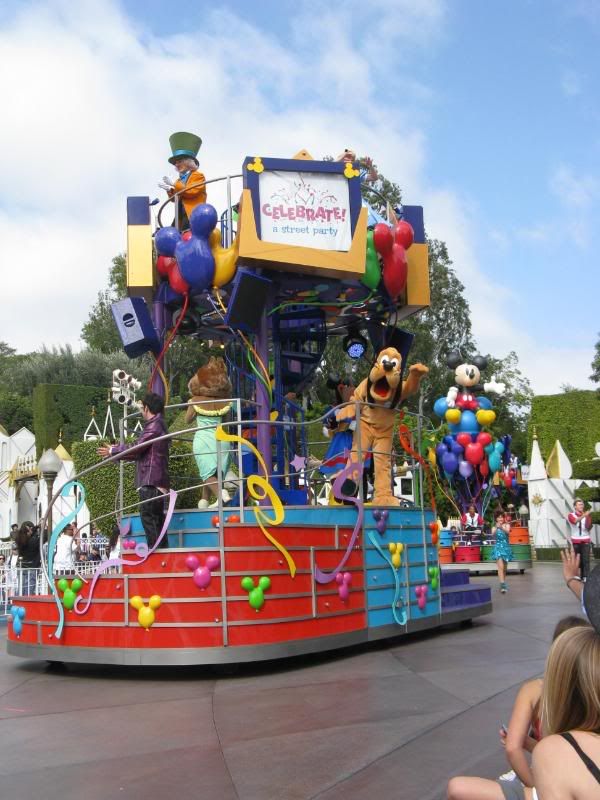 Tigger doing what Tiggers do
The rinky dink dancing began
Then they let the kids loose on the streets which is the high point of the parade for families like our friend Amelia and her daughter.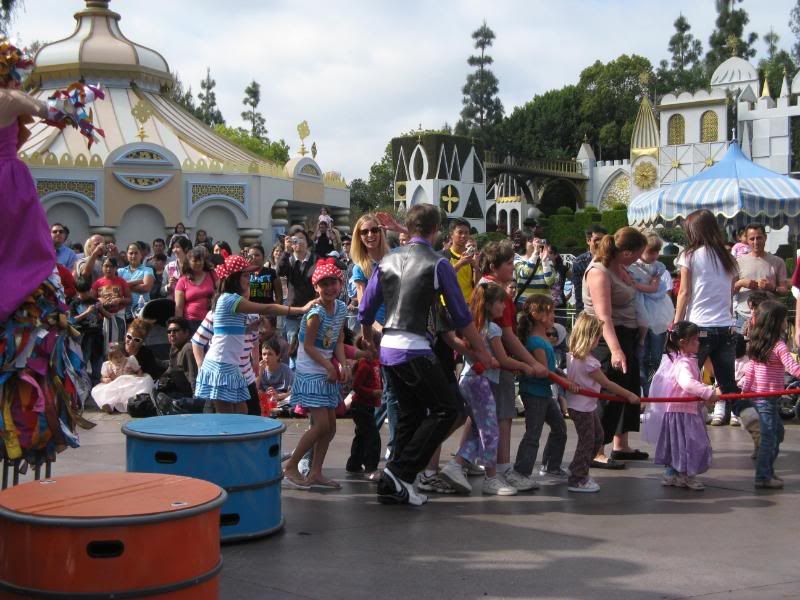 Some late arrivals the Slit walkers
POOH doing dance moves I didn't know POOH could do
And they danced
And for a finale they rode the characters by on bicycles????????