..:namespace prefix = o ns = "urn:schemas-microsoft-com:office:office" />
Ok
I was planning on trying to meet up with Micechat Disney folks
meet near Emporium on Main Street –All the people kept talking about getting there at 4:30am (Yikes)
I figured
not caring about getting autographs (Not big into that)
and just wanting to get some good pictures
-(because I went last year with my soon to be EX-wife and had a great time in Town Square area after rolling in around 1pm)
that I would show up at 7am and maybe get a spot at the back of this group or fringe (and maybe chat with some Disney folks all day and meet some of you myspace Micechat Disney folks –I've never meet in person.
Well foolish me for showing up as late as 7am.
The whole town square area in front of Train station was completely blocked off this year.
Most likely due to the fact that
overly generous Johnny Depp and Orlando spent nearly an hour and a half last year just getting around the hub
signing autographs and taking pictures with folks.
(This apparently pissed off the media last year) –because they were stuck interviewing the Dancing with the Stars C-list celebs and then having to wait for Keira, Johnny and Orlando for hours.
So this year the
media got there way
and the whole of town square was blocked off so that the celebs were funneled into media town first –so unless you were one of the folks that decided 4:30
(Again Yikes)
was a good time to get to the D-land parking lot you were shit out of luck..
Once I realized that I was stuck at the end of the red Carpet five rows deep –because I woke up at 6am.
I figured –oh well I
have a book
(Death Match –by Lincoln Child)
-I'll be ok.
I should have realized being as far back as I was that my best bet would have been to go on rides and find a nice shady spot to read
or hang out that when it got to around 3pm when the premiere was nearing and everyone pulled up there blankets and stood up and moved forward –that I would have been better off finding a better fifth row spot somewhere on Main street after everyone moved forward.
( In fact many last minute Charlie's
as anyone who has worked Parades of Fantasmic at ..:namespace prefix = st1 ns = "urn:schemas-microsoft-com:office:smarttags" />
Disneyland
land knows---were able to get just as good a spot as I was after wasting a Saturday sitting on the ground.
---Here then is my bad photos and comments from the event—starting with a few good photos of
actual Premiere area in
New Orleans
(Yah $1,500 bucks for commoners for charity)
The Area for the Premiere itself looked cool this year
Tow Sawyer's Island will soon be swarming with Pirates
Here are some shots on my way to find a spot (Yikes --really 4:30am that is just crazy) ---Starting with a blocked off Town Square ---shank!
Cool shot of Main Street --Where i was not going to be sitting--Shank!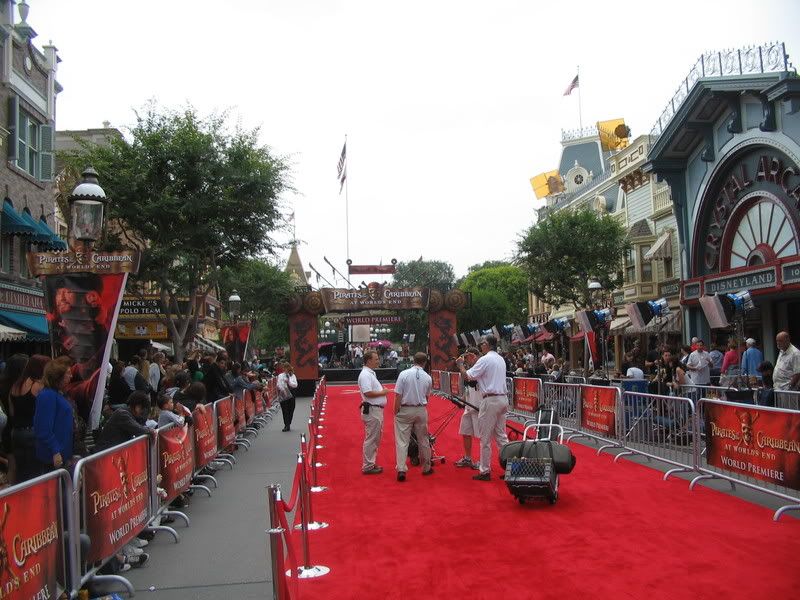 Here is where I ended up --an area near the castle where the road heads toward its a small world. --some of the peeps in front of me
and to the side -- of course those of you familiar with Parade duty and crowd control know---there were the almost fights between guests that had been waiting and rude last minute Charlie's trying to cram in front "I've been here since 6:30 am if you try to get in front of me i will remove you by force" always entertaining.
Finally some Red Carpet entertainment around mid-day ---Hey its Marry Poppins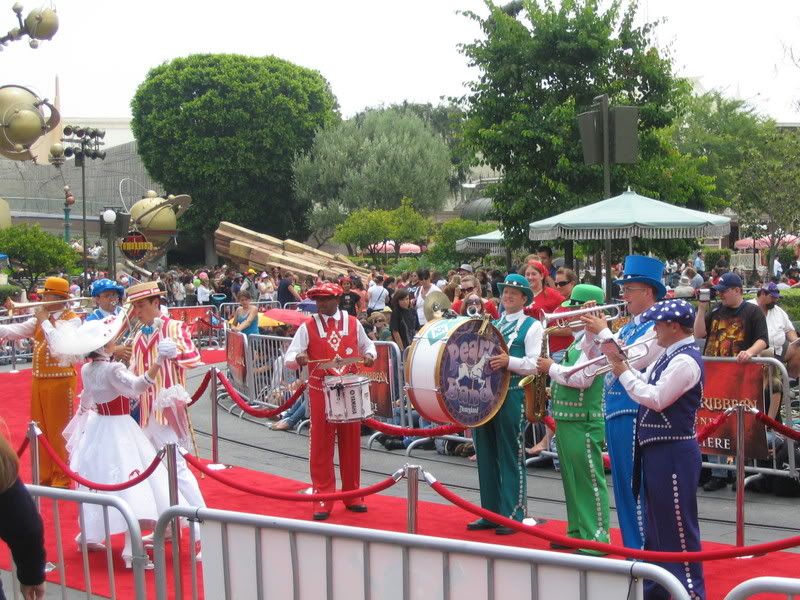 --Then we got the (Wait had to answer the door bell mid sentence for some Jehovah's Witness's ) ok now i'm back ---2 hours til Celebs entertainment --which consisted mainly of Pirates --Did you know that 1 out of every 4 Pirates is a juggler ---(That's a fact)
Here is sexy showgirl Pirates in naval outfits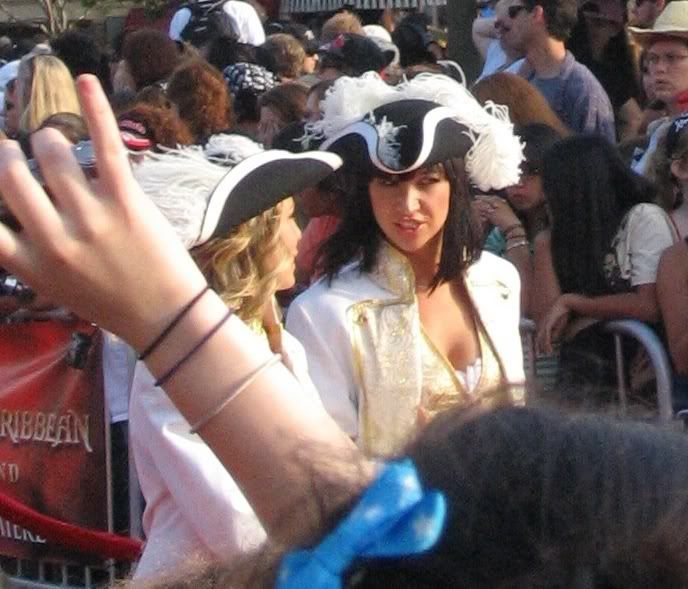 Had fun with group of people around me --that included one really cute girl that (shoosh) works for Disney (bad with names) and her 2 friends --some guy that works as an engineer (forgot his name also) --and guy that keep getting celebs names wrong ---we cracked jokes and laughed and had a good time making fun of people --with comments like "is that someone famous --no just another Disney Channel person or naming dead Celeb look a-likes --we saw fake Jerry Garcia--(fooled people that didn't know they were dead ---Milla Vanilla etc..
If I paid $1,500 to go to Premiere i probably wouldn't dress like a pirate or a Fake Jack Sparrow--saw about 10 of those --here is Ringo Starr looking Jack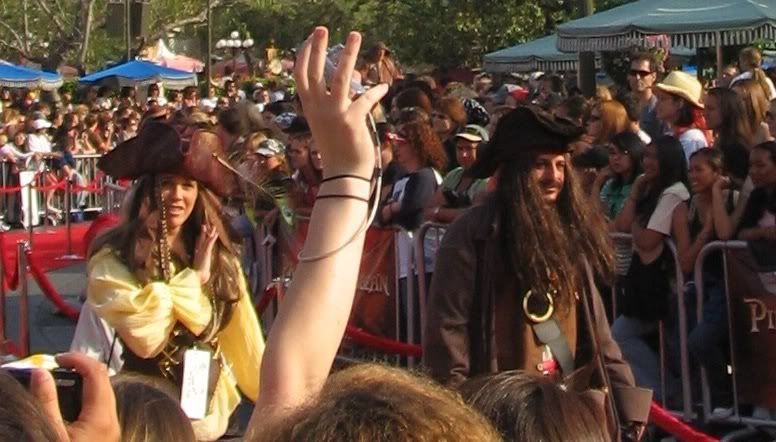 ok now for some celebs ---in no particular order --i feel sorry for some folks like this tall Chinese guy that was obviously a Signapore Pirate in the movie that everyone yelled Yao Ming at. or for example Martin Klebba -who plays the height challenged member of the Black Pearl Crew that -has to hear the shouts of Mini -Me all night---(which he never played)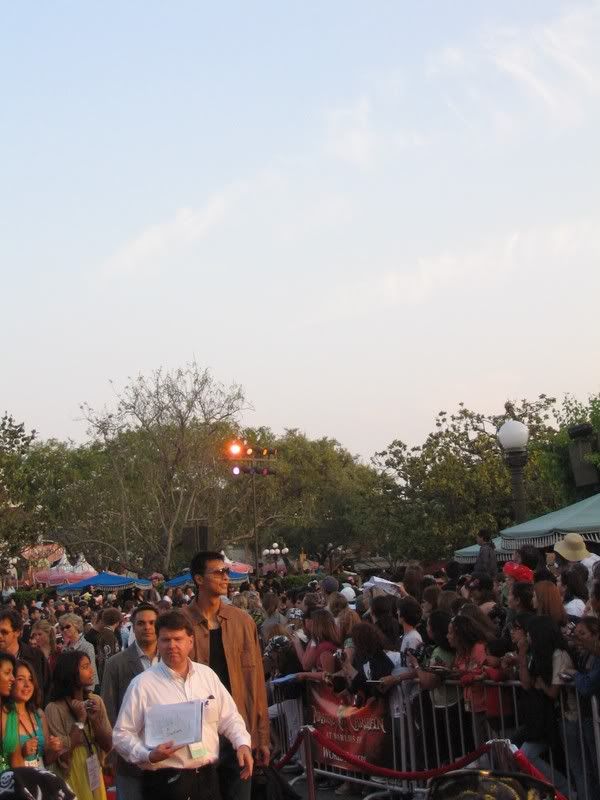 KOBE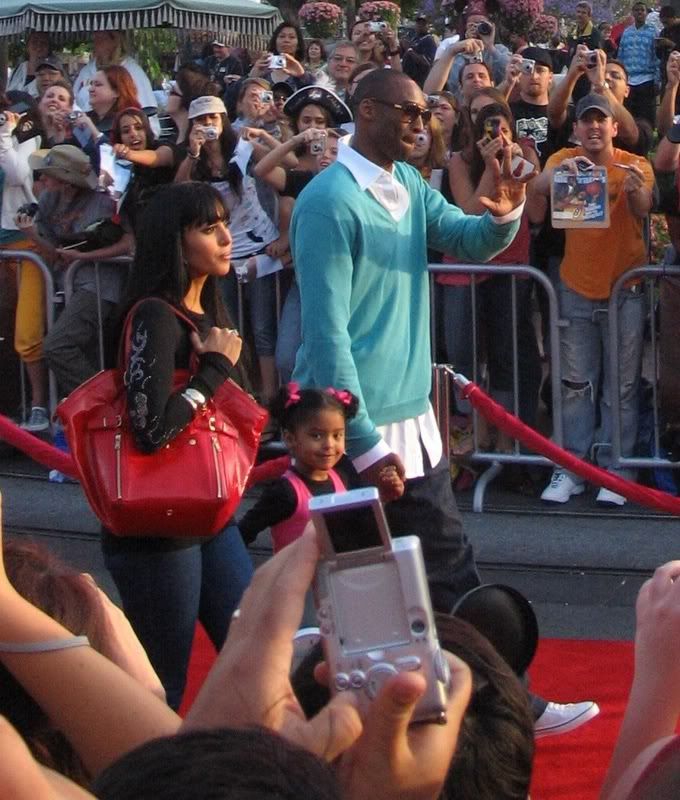 Jesus (Chris Fergusen --Poker Champion)
Matin Landau (Pull the Strings)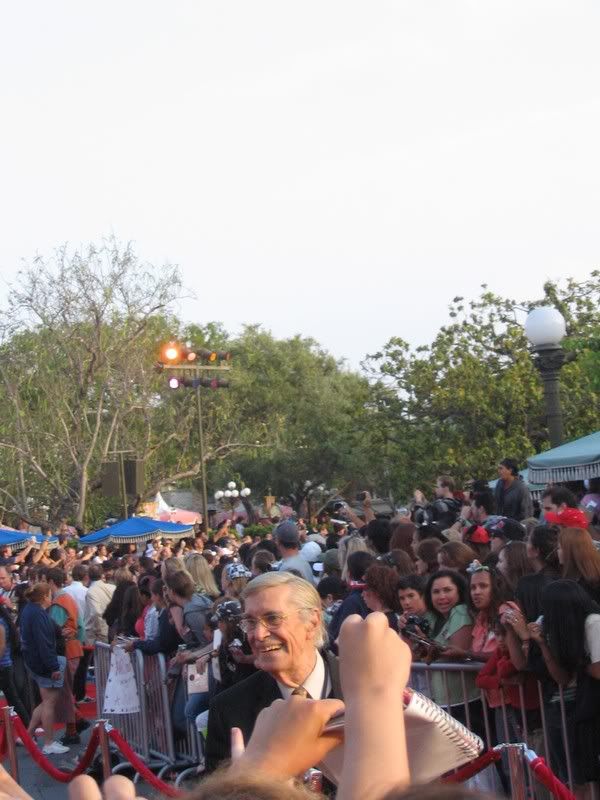 Stacey Kiebler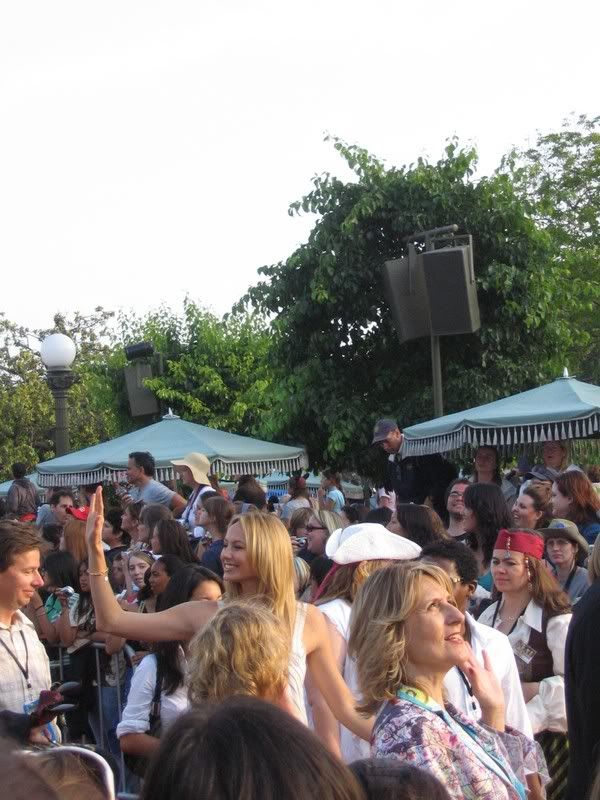 Also fun is the people that are know for their charactes
"Hey it's Hanging with Mr Cooper" (Mark Curry)
..angingwithMrCoo.jpg">
"Hey it's the Japanese Guy on Heroes" Hiro --(Masa Oka)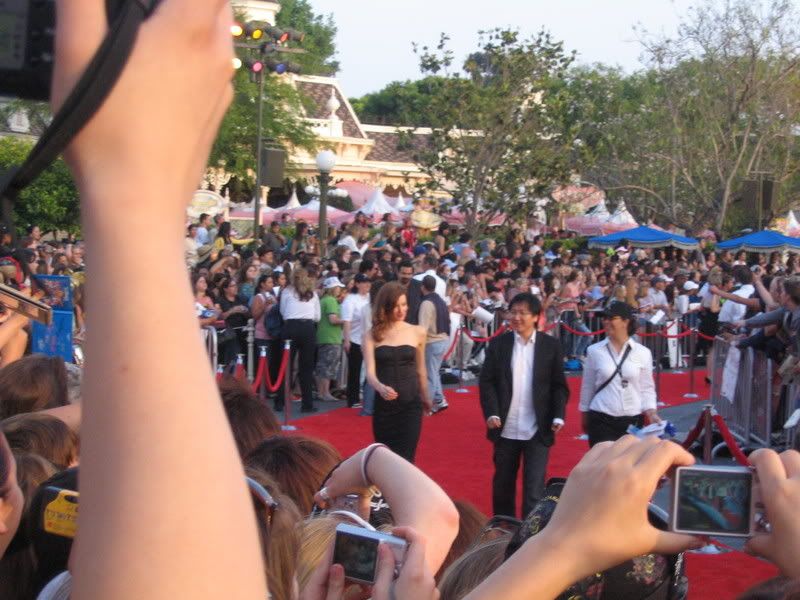 "Hey Guy from one Tree Hill" Chad Michael Murray
Janice Dickenson
Or the important people like the director that the average person doesn't Recognize like Gore Verbinski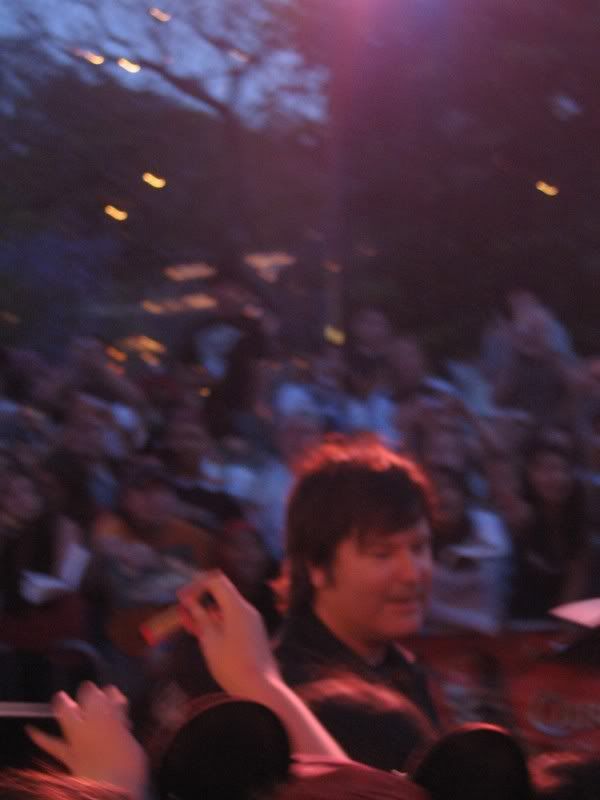 Now for some fun Find Captain Barbarossa Geoffrey Rush with the monkey on his shoulder.
Now the back of Roy Disney's Head
Here is one i like to call Spot Orlando Bloom or Four arms randomly holding up cameras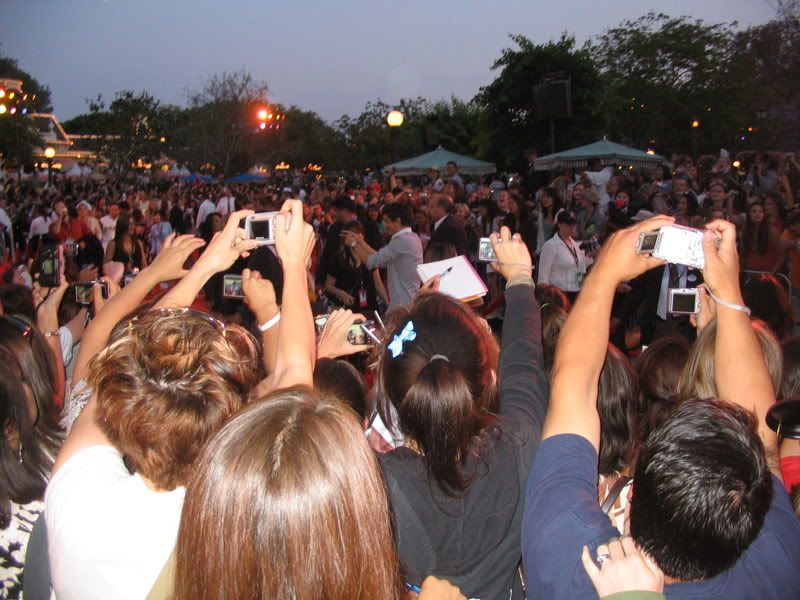 Here is cropped version where you can actually see him ---at the point they got to our area they were rushing them to the Premiere ---(lucky Main Street 4:30am bastards got some autographs)
Keira Knightley was not in attendance -So I'll throw in a pic from last year for the guys 2006 Dead man's Chest Pic taken off video i shot last year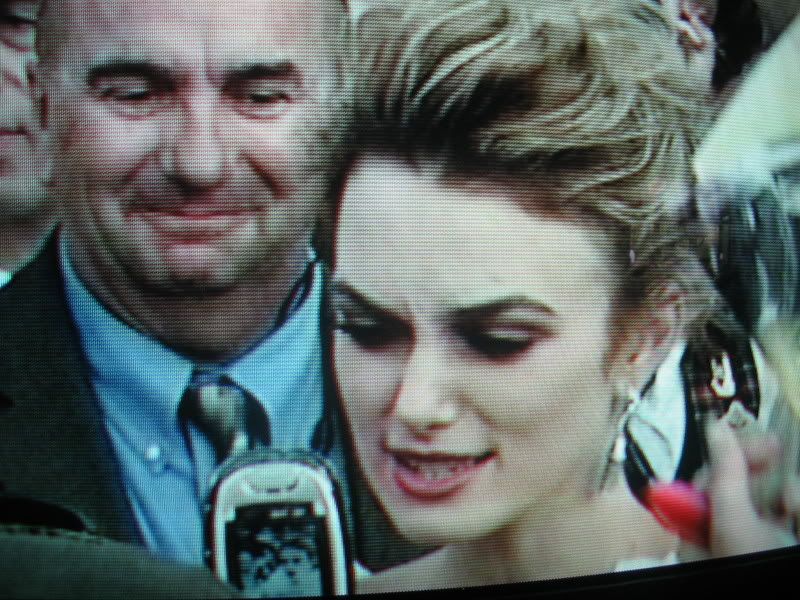 Here is some pictures from the stiff legged waddle out of the park
Random Dressed up girls
Posters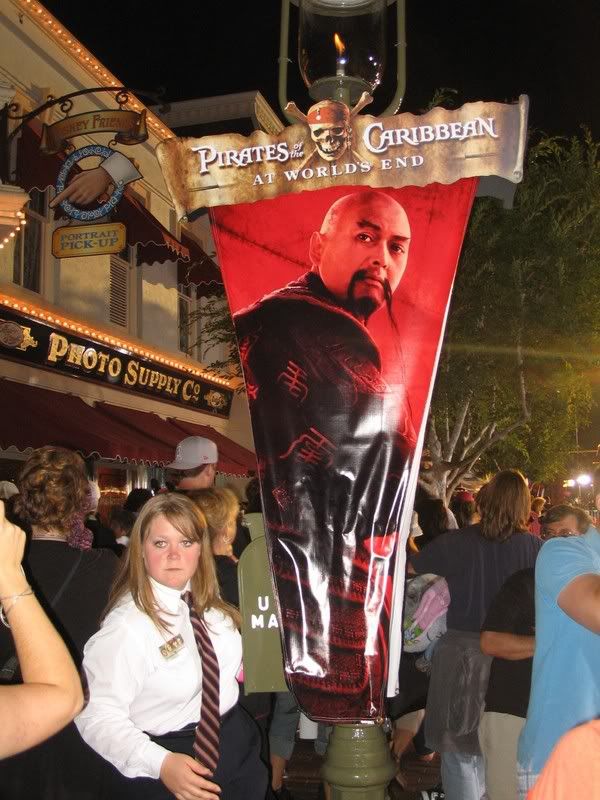 That's All I'm exhausted from both the Red Carpet yesterday and blog today. Arghhhhh!